(I apologize that this post is coming late but you know how life is!)
Last Sunday was Academy Awards Night for Hollywood's finest. All the stars were out, there was no host and all of the awards would be televised. Along with the diverse list of nominees, this had all the makings of a magical night. And the viewers would not be disappointed.
The very first award winner was a clear sign that the changes in the Academy were already having an impact as Regina King won the Oscar for the Best Supporting Actress in If Beale Street Could Talk (being completely honest, she was the only good thing about that movie). I was shocked but more of a pleasant shock and excited to see where the show was going to go.
I won't go through all of the awards but provide a brief recap of the Night of Golden Statues:
Superhero representation
Marvel Studios' Black Panther clawed three awards: Best Costume Design, Best Production Design, and Best Original Score. The last award was well deserved because the score for that movie is magical and so powerful that you can't help but get swept up in the adventure. The best MCU score ever. Best Costume Design and Production Design had stiff competition with other films such as Mary Poppins Returns, First Man and Oscar powerhouses The Favourite and Roma. 
Against films like Incredibles 2 and Ralph Breaks the Internet, another masked hero took home the golden statue as Spider-Man: Into the Spider-Verse won for Best Animated Film. I love Incredibles 2 but what made Spider-Verse better was definitely its animation style and the story. Paring stunning animation with hip-hop music and a well-known character that all audience members can connect with put the Web-Slinger over the long-awaited Disney-Pixar film.
Years later after The Dark Knight was nominated for Academy Awards, the Academy finally realizes that these films can be amazing films and should be rewarded.
Equal Representation
I did mention Regina King winning the Oscar for Best Supporting Actress was just the beginning as Mahershala Ali won his second straight golden statue for his performance in Green Book. After his performance in last year's Best Picture Moonlight, I was confident that Ali would win again after I watched him play the talented Dr. Don Shirley.
Alfonso Cuaron won Best Director for Roma, which also won for best Foreign Language Film. Cuaron's slice-of-life movie became the first foreign language film to win in the Best Director category. Cuaron was against a strong field that included Spike Lee (BlacKkKlansman), Adam McKay (Vice), and Yorgos Lanthimos (The Favourite) so it was a well-earned win. If you haven't had a chance to watch the film, it's streaming on Netflix.
Speaking of one of those directors, Spike Lee won his first ever competitive Oscar for Best Adapted Screenplay for BlacKkKlansman. Spike Lee is one of the most talented filmmakers in Hollywood, creating controversial but thought-provoking films over his career. He's been nominated many times but this was his first ever Oscar win. The excitement between Lee and long-time friend/movie collaborator Samuel L. Jackson was an Oscar moment in the making.
Oscar No-Brainers and Surprise Wins
With every award show, there are always snubs and surprise wins. My biggest surprise was Rami Malek's Best Actor win for playing Freddy Mercury in Bohemian Rhapsody. After seeing the other actors in the category, I was ready to bet on Viggo Mortensen winning his first ever Best Actor win after so many years. Or Bradley Cooper but it looks like Malek's performance won over the Academy. This award was the one of four for the Queen biopic.
Olivia Colman defeated four other strong contenders to claim the Best Actress award. Lady Gaga did a wonderful job in A Star is Born but after watching Glenn Close's performance in The Wife, I would have given it to her. But it looks like that might have to wait another year.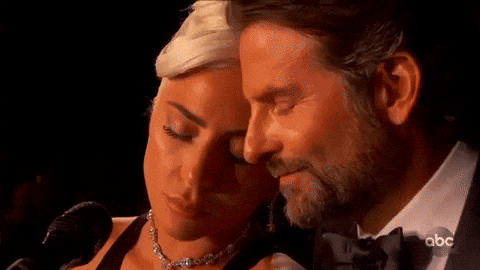 Lady Gaga's win for A Star is Born for Best Original Song with "Shallow" isn't a big surprise. But did you see her and Bradley Cooper perform it on Oscars Night? While there isn't anything going on between them… that chemistry!
The big award categories that were no surprise (at least to me) were the ones that Green Book was able to pick up on this night. The movie won three awards; along with Ali's Supporting Actor win, that includes Best Original Screenplay and the biggest award of the night with the Best Picture award. Now the controversy surrounding movie critics and some filmmakers is if the dramedy deserved the win. Personally, I think that it did with BlacKkKlansman as a close second. Despite the fluffy predictability of the two men resolving their differences and actually becoming friends, the grounded realism of the time period and persevering against the ugliness of a way of thinking helped carry the film onto the win because that's something the world needs to see right now.
All in all, this Oscar show was a lot better and flowed easier than in previous years. Maybe we should keep the "no host" idea for next year. Just putting that out there.
Thanks for reading, everyone! Any other thoughts about Hollywood's biggest night? Any snubs that I missed? Definitely leave a comment! Also check out my Facebook page for this blog  and show some love! Until next time!